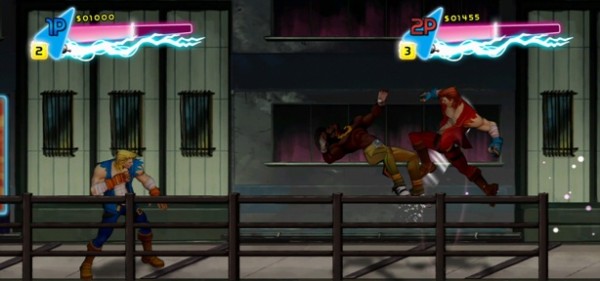 WayForward Technologies, creator of Shantae and developer of many great 2D titles of recent years including A Boy and His Blob (Wii) and Contra 4 (NDS), is partnering with Majesco to bring us Double Dragon: Neon.
The high-definition 2D update of the classic side-scrolling brawler is an 80's style reboot featuring a familiar mix of martial arts and weapon-based combat. "The gameplay is the same brand of 2D side-scrolling popularized by the original game several decades ago, albeit with even more of a wild, 80s flair" says IGN.
Players will reprise their roles as Billy and Jimmy Lee to fight the villainous Skullmageddon and rescue love-interest Marian.
Double Dragon: Neon is scheduled for a July release on both PlayStation Network and Xbox Live Arcade.