Tag: Fatal Frame
by Matt Keller on Mar.23, 2014, under Video Game Ad of the Day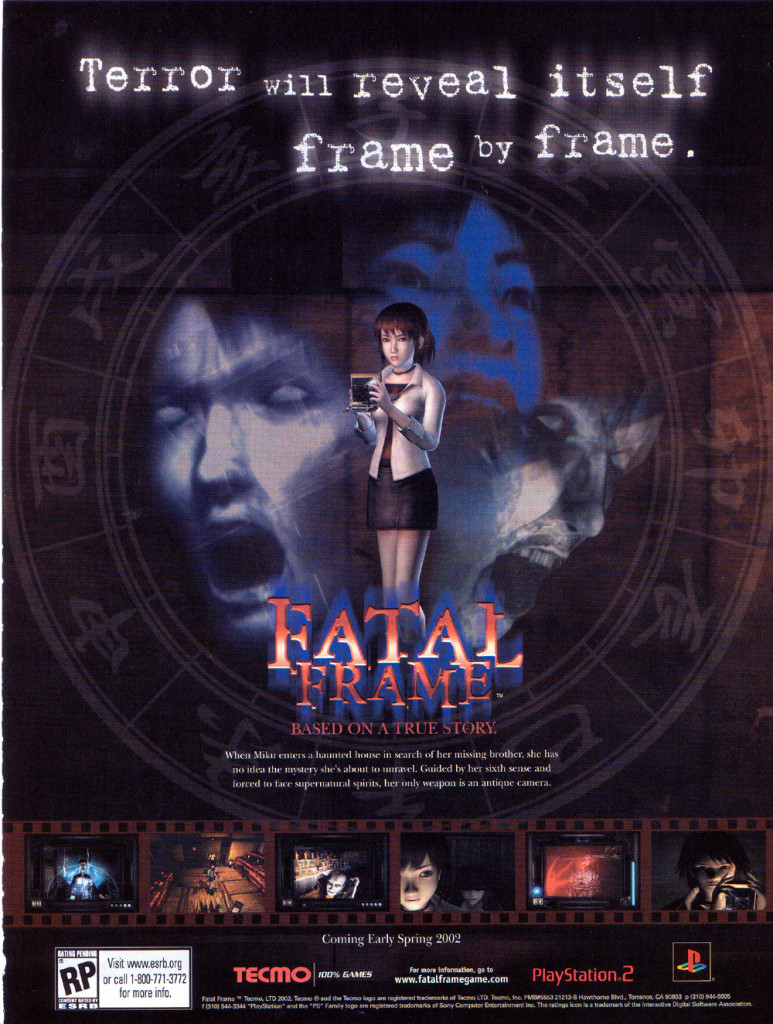 Video games don't come much scarier than Fatal Frame (or Project Zero for the rest of us). Main character Miku goes to the mysterious Himuro Mansion to look for her brother Mafuyu, who has been missing for several weeks. The mansion is full of evil spirits, which Miku can vanquish with her special antique camera.
Leave a Comment
:Fatal Frame, Project Zero, Tecmo, Video Game Ad of the Day
more...
by Charly on Apr.14, 2012, under News
The Wii remake of the far too creepy survival horror game Fatal Frame: Crimson Butterfly (known as Project Zero II: Crimson Butterfly in PAL regions) is coming to Europe. Titled Project Zero 2: Wii Edition, the game's release is set for June 29 – the same day as the 3DS Fatal Frame spin-off, Spirit Camera: The Cursed Memoir.
Project Zero 2: Wii Edition will feature updated graphics, a new third person camera view, some additional endings and story episodes, revised maps for more scares and the Wii remote will act as a flashlight pointer (hooray!).
A Haunted House mode has also been included, with local multiplayer in mind. There are several courses through the Haunted House to explore, but events are random. Your friends can frighten you by making ghosts appear (using a second Wii remote), while the game measures how much fear you experience.
With the fourth installment of the series, Fatal Frame IV: Mask of the Lunar Eclipse, not seeing a release outside of Japan, perhaps Project Zero 2: Wii Edition can satisfy fans' yearning for more Fatal Frame. There are no currently plans for a western release of Fatal Frame IV: Mask of the Lunar Eclipse, however an unofficial English translation patch has been released for the game.
Source: Siliconera
Leave a Comment
:Fatal Frame, news, Project Zero, remakes, survival horror, Wii
more...