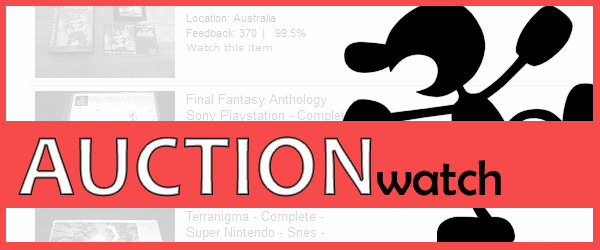 Some good – and affordable – stuff this week.
Wario Land III (Game Boy Colour)
– This is a buy it now, but there are apparently two available, and $35 is good for a new first party GBC game.
Game Boy Gallery 4 (Game Boy Colour)
– Same as above, new and $35 buy it now
Rockman Collection (PlayStation NTSC-J)
– A high price but a cool set
Daze Before Christmas (Mega Drive)
– Best condition copy I've seen.
GameCube Bulk Lot
– Doesnt specify if manuals are present, but lot includes Super Smash Bros Melee, Paper Mario: Thousand Year Door, Mario Kart Double Dash, Super Mario Sunshine, Metroid Prime, Metroid Prime 2, F-Zero GX, Resident Evil 4 and more.
Conker's Bad Fur Day (Nintendo 64)
Metal Gear Solid 20th Anniversary Collection Box Set (PlayStation, PlayStation 2 and PSP)
Super Smash Bros. (Nintendo 64)
Fire Emblem: Path of Radiance (GameCube)
Mario Party (Nintendo 64)
Star Fox 2 (Super Nintendo) – PAL Reproduction
Super Mario World: Return to Dinosaur Land (Super Nintendo) – PAL Reproduction
The Legend of Zelda: Parallel Worlds (Super Nintendo) – PAL Reproduction
Paper Mario: The Thousand Year Door (GameCube)
Secret of Mana (Super Nintendo)
Shenmue (Dreamcast)
Shenmue II (Dreamcast)
Shadow Warriors II (aka Ninja Gaiden II) (NES)
Nintendo 64 Fire Orange Console
Nintendo 64 Grape Purple Console
Nintendo 64 Ice Blue Console
PlayStation with Rental Case
– Havent seen one of these in nearly 10 years