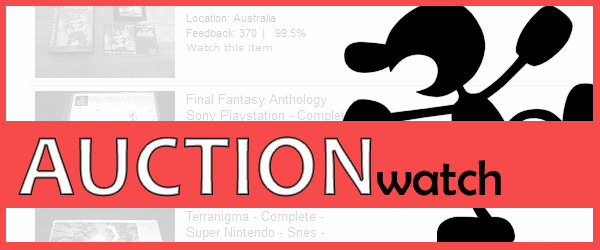 Lots of stuff around this week.
Just a reminder – items posted in Auction Watch are complete and in what I consider to be "good" condition. Unless noted, items are PAL and from Australian sellers.
Mega Man X (SNES)
Skies of Arcadia: Legends (GameCube)
Gran Turismo 4 PlayStation 2 Bundle
The Legend of Zelda: A Link to the Past / Four Swords (Game Boy Advance)
– haven't seen one in this good condition ever – even when it was available new from retail.
Keio Flying Squadron (Mega CD)
Rainbow Islands (NES)
Mega Man 64 (NTSC-U Nintendo 64)
– new & sealed
Kid Icarus (NES)
Mario Paint (SNES)
Nintendo Game Boy (launch version)
– first retail version of the original Game Boy. Don't often see them CIB.
Earthworm Jim: Special Edition (Mega CD)
Pokemon Fire Red (Game Boy Advance)
Pokemon Emerald (Game Boy Advance)
Pokemon Sapphire (Game Boy Advance)
Mario Party (Nintendo 64)
Xbox Store Kiosk
– Pickup from Penrith only