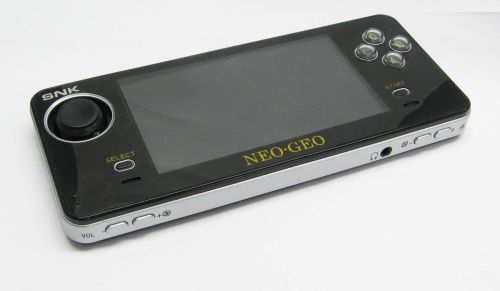 You've probably seen it all over the 'net by now, but SNK has lent the official Neo Geo license to a new portable system.
The Neo Geo Ketai (portable) boasts a 4.3 inch LCD screen, 2GB of flash memory storage (expandable through the SD slot) and will come preloaded with 20 preloaded Neo Geo classics (and some not-so-classics) including World Heroes, Ultimate 11, Top Player's Golf, Sengoku, NAM-1975, Mutation Nation, Last Resort, King of Monsters, Frenzy, Cyber-Lip, Fatal Furty Special, The Art of Fighting, Super Sidekicks, League Bowling, Metal Slug, Magical Lord, Baseball Stars Professional, Samurai Shodown, The King of Fighters '94 and Fatal Fury.
SNK has not officially announced the device yet, but pictures of the system popped up on Japanese blog Famicom-Plaza.